Farm to Doorstep: How Technology is Transforming Local Food Access
The journey of fresh produce from farm-to-table is long – production, harvest, sorting and grading, cleaning, packaging, pre-cooling, delivery, display, and purchase. From harvest to delivery alone, it can take up to a day, if the produce comes from local farms (less than 100 miles away), or three days if it is procured from farms more than 100 miles away. As such, by the time the fruits and vegetables reach the shelves of your local grocery store, they won't be so "fresh" anymore.
Narrowing The Distance Between Farms and Consumers
It's no secret that fresh produce spends some time with the middleman (i.e., grocery store or supermarket) before it reaches consumers' plates. Well, there's a way to get around that. Cutting out the middleman reduces the distance from farm to consumer, giving the latter access to the freshest produce. But how?
While online shopping has been a staple in the market for quite some time, the pandemic paved the way for digital direct-to-consumer selling in agriculture – virtual farmers markets. These platforms allow people to buy fruits and vegetables straight from the source to enjoy farm-to-table freshness at a more affordable price.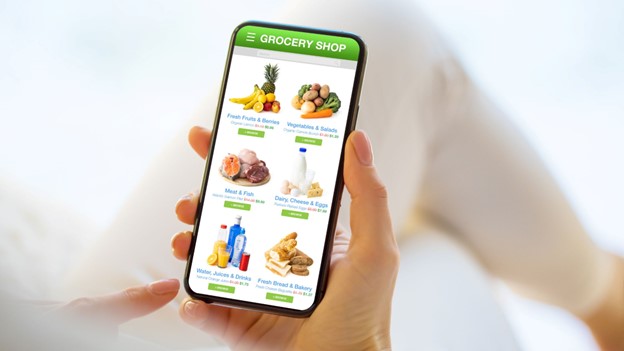 What Is a Virtual Farmers Market and How Does It Work?
Imagine your typical online shopping website, but instead of clothes or electronics, we have fresh and delicious produce straight from local farms. Thus, a virtual farmers market is an online platform where you can browse a wide selection of fruits, veggies, meats, eggs, and dairy products, add them to your cart, place an order, and quickly pay using your mobile phone or device. It allows us to purchase fresh, locally-grown produce from the comfort of our own homes. Many of these markets offer delivery or pickup options, making accessing fresh and healthy food effortless.
In 2018, Ontario farmers came together to establish Click Fork, a platform that allows participating farms to list their products for easy online ordering.
5 Benefits of Virtual Farmers Markets for Consumers and Producers
The rise of virtual farmers markets can transform how we think about buying and selling local produce. By embracing technology and innovation, we can create more accessible, sustainable, and equitable food systems for everyone.
1. Increased Accessibility
Not limited by physical boundaries, this model allows you to reach a wider audience and sell more products.
Furthermore, online markets can provide greater convenience for customers, who can easily browse and purchase products from the comfort of their own homes. This increased accessibility is particularly valuable for individuals with mobility issues or far away from traditional markets.
2. Reduced Food Waste
With online markets, farmers can sell their entire harvest without worrying about unsold produce going to waste. This is because they can accurately predict demand and adjust their inventory accordingly, which is not always possible with physical markets.
3. Improved Connection Between Producers and Customers
Many virtual farmers markets allow consumers to communicate directly with farmers, increasing transparency and building trust. Consumers can ask questions about farming practices, growing methods, and recipes, and farmers can share their knowledge and expertise.
4. More Affordable Prices
E-commerce platforms for small family farms are not only convenient for buyers but also for farmers and food producers. Listing products online helps them reach customers without traveling to markets. Thus, they can save money and time, which they can use for operations and production. Farmers can sell their produce at a lower price with increased productivity and savings without compromising their profit margin.
5. Environmental Benefits
By reducing the need for transportation and packaging, virtual farmers markets can help reduce their carbon footprint and lead to a more sustainable food system.
The Bigger Picture: Virtual Farmers Markets Encourage Robust Local Economies and Communities
Virtual farmers markets have become incredibly popular in the last few years because they offer numerous benefits for consumers and farmers. By providing convenience, accessibility, quality, and affordability, online farmers markets encourage consumers to prioritize buying locally and supporting small family farms. Not only does this help consumers access fresh, healthy food, but it also leads to more robust local economies. Supporting small family farms is also essential for preserving local agriculture and ensuring the long-term sustainability of our food systems.
Are you considering listing your products in virtual farmers markets or expanding your online platform? MBE CPAs has professionals who can provide valuable and reliable business advice tailored to the needs of farmers and agricultural producers. Their foundation in assisting small businesses with their accounting and financial needs makes them a dependable firm to give tactical insight into successfully taking advantage of the virtual farmers market craze. Don't let this opportunity pass you by! Get ahead of the curve and contact MBE CPAs today for assistance with propelling your business into the present virtual marketplace your business needs for success.
Our marketing affiliate and contributor, Brand House Marketing, wrote this article. Contact them for creative and custom-tailored marketing solutions for your company.