How Your Restaurant Can Compete in the Great Trade Down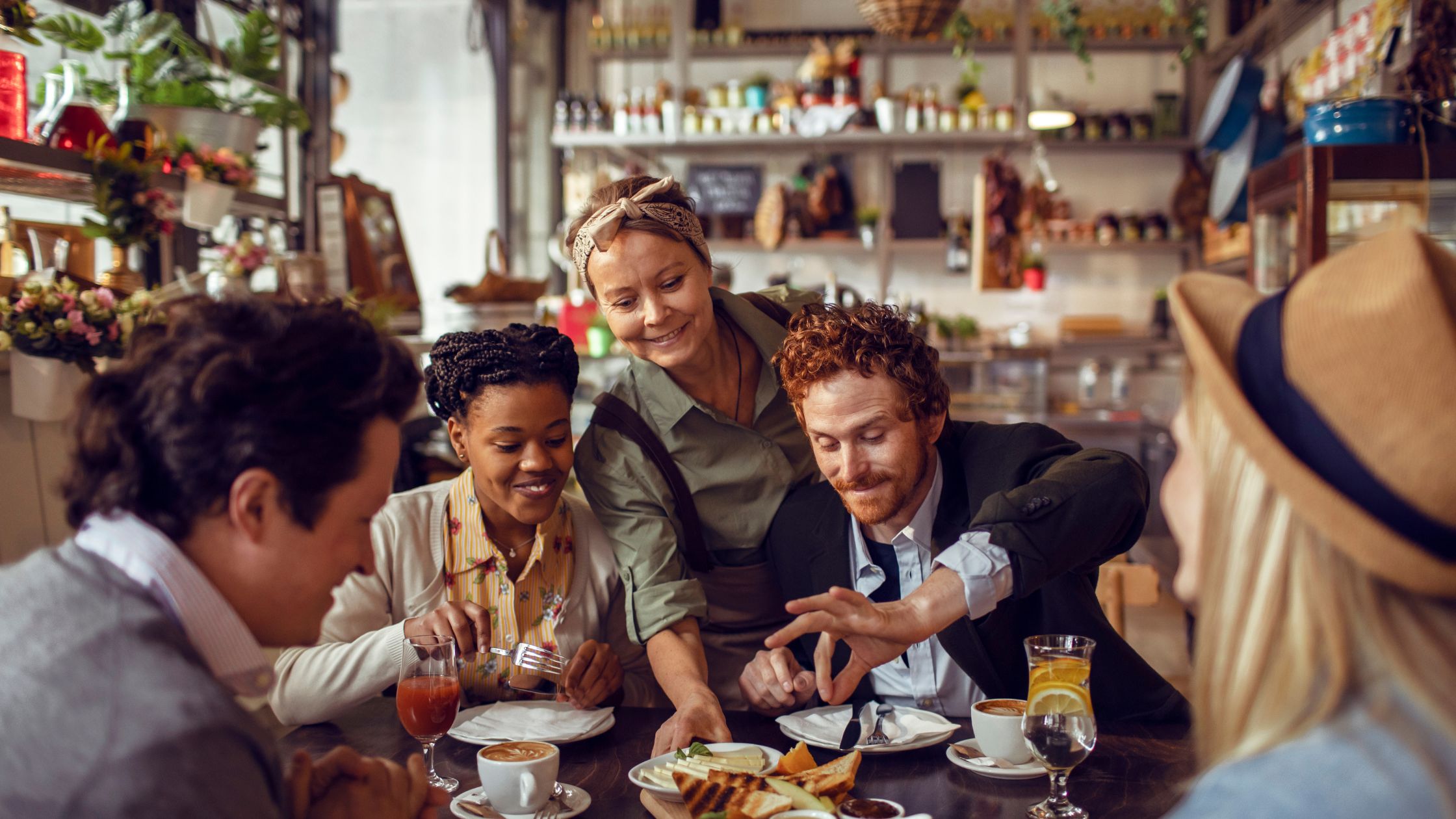 That nearby McDonald's is giving you a run for your money.
Sure, you may think they're not really competition since your restaurant offers a different experience and food. But admit it. Everything's been in shambles since 2019, and inflation is not helping the industry pick up from where it left off. The way competition works are distorted by survival. Rather than socio-economic class, consumer choice (or what's left of it) now depends on practicality – with more weight pulling down on needs than wants.
In the last quarter of 2022, chain restaurants reported growing sales BUT observed a decline in foot traffic. The dichotomy suggests that the rise in sales may be attributed to price increases rather than increased demand. This could signify a great trade-down, where consumers compromise to fulfill their want of restaurant experience while spending less.
The Great Trade Down
The restaurant industry has experienced unprecedented change over the past few years, with a particular focus on the great trade down from full-service establishments to fast-food and casual dining options. This shift is evident across all restaurant categories, from fine-dining spots to family-style restaurants. With consumers opting for simple menus and convenience, cost reduction is the leading factor in this transformation. Customers are more conscious than ever about what they spend their money on when dining out.
McDonald's is a prime example of how being well-positioned in value can lead to success, even during economic uncertainty. In Q4 of 2022, their robust profits are a testament to their long-term strategy of providing accessible, affordable products and services to customers.
Potential Decline in Food and Service Quality
The need for value and affordability has driven many restaurant businesses to become even more creative regarding pricing structures and menu variety to continue competing in the market. However, there are some risks associated with this trend, as it could lead to a decline in quality across the restaurant industry.
Of course, trading quality for affordability is the easy route to go. Still, it does not guarantee foot traffic and will not build customer loyalty. Serving affordable food isn't enough; customers also want great taste and outstanding service! Instead of focusing on being "cheap," provide value in terms of both money and experience – creating an atmosphere that makes people eager to return.
Helping you find the right balance between price and quality is what we're here for. Let's dive right into the steps you can take to stay competitive amid the great trade-down.
How Your Restaurant Can Compete in the Great Trade Down
1. Explore other cost adjustment measures.
Reducing prices should always be a last resort since it could hurt profitability. But if you find yourself needing to lower costs, there are strategies that can help maintain quality and profitability. For instance, if done in moderation, cutting portion sizes won't impact customer satisfaction. It's a great way to stretch your budget further while offering a top-notch experience. In addition, you're doing the economy a favor by reducing the massive food wastage tugging the already limited food supply.

Aside from this, consider swapping some of your ingredients with cheaper alternatives. How about topping your salad with chickpeas instead of almonds? You can also look into farmers' markets, local butchers, and producers in your area – you'd be surprised at how much you can save just by shopping around. Supporting small businesses and reducing costs? It doesn't get much better than that!
2. Offer value-added items that justify a higher price point.
One way to leverage higher prices is to offer value-added items on your menu. Incorporating creative sides, unique sauces, or drinks can give customers the feeling that they are receiving something special for the extra price. This often justifies more cost for those that value quality. People come to a restaurant in part for the experience, and offering something unique is sure to thrill them!

3. Improve customer experience.
Did you know that 36% of consumers intend to cut back on their restaurant visits not only due to inflation but also to poor service? Thus, your price point may not be the problem since many factors play into a diner's experience.

Check what your customers have to say about all aspects of your business – menu, food quality, service time, ambiance, staff behavior, etc. Conducting this survey will help you gain valuable insight into areas needing attention. The results could surprise you!

4. Launch a rewards program to build customer loyalty.
Let's face it, attracting first-time diners is easier than retaining customers. And that's a fact even without inflation on our backs. So how do you stimulate their desire to come back time and time again? Loyalty program.

Along with their search for value, restaurant-goers are becoming savvier about finding deals. While 55% do not use loyalty programs, 35% said these programs are one of their deciding factors when choosing a restaurant. Another study showed that 86% of diners are willing to join a rewards program if it offers discounts or coupons.

When tapped, this gold mine of unengaged but willing customers can boost customer loyalty and improve your bottom-line growth.

You can opt for a spend-based program (points system, tiered loyalty program, cash back) or a subscription-based program. Here are popular loyalty programs you can take notes from:

Starbucks Rewards – and don't forget to also check out their holiday rewards program, Starbucks Traditions
Pizza Hut Rewards
My McDonald's Rewards
DD Perks (Dunkin' Donuts)
With an ever-increasing need to keep customers coming back for more, many big players are shaking up their existing programs. Dunkin' recently stepped up its points system with a catch: some of their prices have also gone up! Meanwhile, Tim Hortons improved ease of use by integrating a "scan and pay" functionality into its loyalty app.
Equipping Yourself for What's Yet to Come
Only a few months in, and 2023 is already serving the restaurant industry food for thought. But the great trade-down doesn't have to be a bad thing for your restaurant. By understanding this trend, you can adapt your business model to still attract customers looking for a great dining experience.
Keep your menu affordable without sacrificing quality, and focus on providing excellent customer service. If you can provide an enjoyable experience at a price that is competitive with fast-casual restaurants, you'll be in good shape to weather the storm of the great trade-down. And if you need help making sense of it all, don't hesitate to reach out to MBE CPAs.
This article was written by our marketing affiliate and contributor, Brand House Marketing. Talk to them today for creative and custom-tailored marketing solutions for your company.